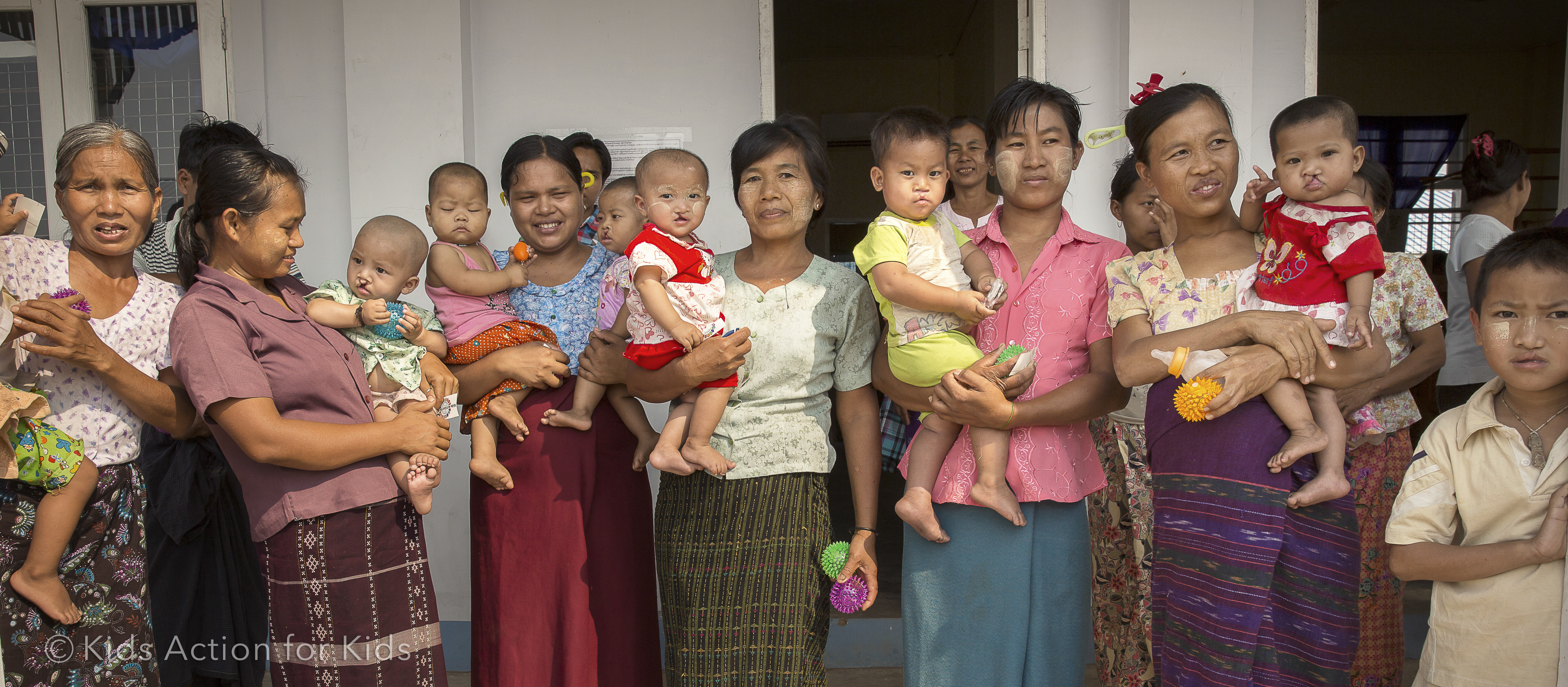 31.03.2015
After six years of helping children in Thailand born with a cleft lip, cleft palate or both, Kids Action (KAFK) took a new step in its history, and went to Myanmar on 14-20 March to help similar children receive free reconstructive surgeries there. Patients and their parents came to the Naypyitaw 1,000 Bedded Hospital from different parts of the country including Bagan, Kayah, Magway, Mandalay, Mawlamyine and Taung Dwin Gyi. 221 children were screened and registered, of which 142 children received new smiles, under the formal invitation of the Myanmar Ministry of Health's International Health Division.
Anders Brekke, the current Chairman and co-founder of Kids Action for Kids along with his brothers Martin and Haakon commented to the media "All of us at KAFK are excited to bring long lasting change to Myanmar and to be part of a Myanmar-Thai-Norwegian friendship through medical diplomacy."
In Naypyitaw, the cleft lip and cleft palate facial deformity surgeries were scheduled over five days and conducted by Operation Smile volunteer medical professionals in the lead of Dr. Apichai Angspatt, Head of Trauma and Chief Surgeon, Chulalongkorn Hospital in Bangkok, and Dr. Khin Maung, Chief Oral Surgeon, Naypyitaw 1,000 Bedded Hospital. The surgeries were divided to different groups according to their priority as follows:
Priority 1 – Primary cleft lip of any age: 106 patients
Priority 2 – Primary cleft palate up to the age of 6 years: 28 patients
Priority 3 – Primary cleft palate above the age of six: 3 patients
Priority 4 – Revision cleft lip or palate surgeries: 4 patients
Priority 5 – Non cleft surgery (e.g. burn contracture release): 1 patient
The team of KAFK volunteers and supporters travelling to the capital of Myanmar consisted of nearly 20 people from seven different nationalities, representing KAFK Thailand, its younger "Kids", and High School Clubs from International School of Bangkok and American School of Singapore, and co-funding organizations Conexus AS, Telenor Myanmar and Benchachinda. The nationalities represented were Norwegian, Danish, Finnish, Turkish, American, Thai and Korean – a lovely, committed and entertaining group in all!
The KAFK volunteers' and supporters' role in Myanmar medical mission was to help little patients be in the right place in the right time, and keep fears away. The queues to various stops in the screening and surgery process were sometimes long, thus, entertaining skills were highly appreciated. KAFK team saw a beautiful country with such kind, patient and equally curious people. As much as the volunteers wanted to learn more about the Myanmar people in the hospital and shelters, the patients and their parents also wanted to communicate, join games and drawing, and have a memory of their visitors with many, many photos taken during those days.
KAFK team felt the needs of families and children will stay with them forever. Some of the families had travelled several days to receive any help for their children, and some children had been sent alone with a group. The children were heart-breakingly happy to receive small toys, colouring paper and pencils that none of them had there, perhaps not at home either.
Approximately 1 out of every 700 live births in Myanmar results in a child with a facial deformity. Operation Smile estimates that 50-60,000 children in Myanmar live with unrepaired cleft lip and cleft palate deformities. Cleft lip and cleft palate is a genetic deformity occurring throughout the world, but more prevalent in low-income countries where mothers are exposed to external factors, such as smoking, drugs, alcohol, cooking over wood burning stoves, that are not properly ventilated outside the home, and lack of a nutritious diet – during pregnancy.
This medical mission reached only a fraction of those children who need serious help with their facial deformities, but the KAFK team wishes to come back and bring more smiles to Myanmar in the future.
The KAFK team is extremely grateful for all the donations and help that has made it possible to conduct the medical mission in Myanmar. Thank you all very much!
Read and watch our volunteers' stories here:
Shanon's reflection on Myanmar mission
Kine helped in Myanmar mission
Photographer Ellie looks deep into photos after her trip to Myanmar
Ellen's "Value expedition project"
Video: Colgate swimmer inspires smiles with Kids Action for Kids
Video: Colgate Swim-A-Thon to benefit Kids Action for Kids
Photo credits: ©Kids Action for Kids / Ellie Edelhoff