13.02.2017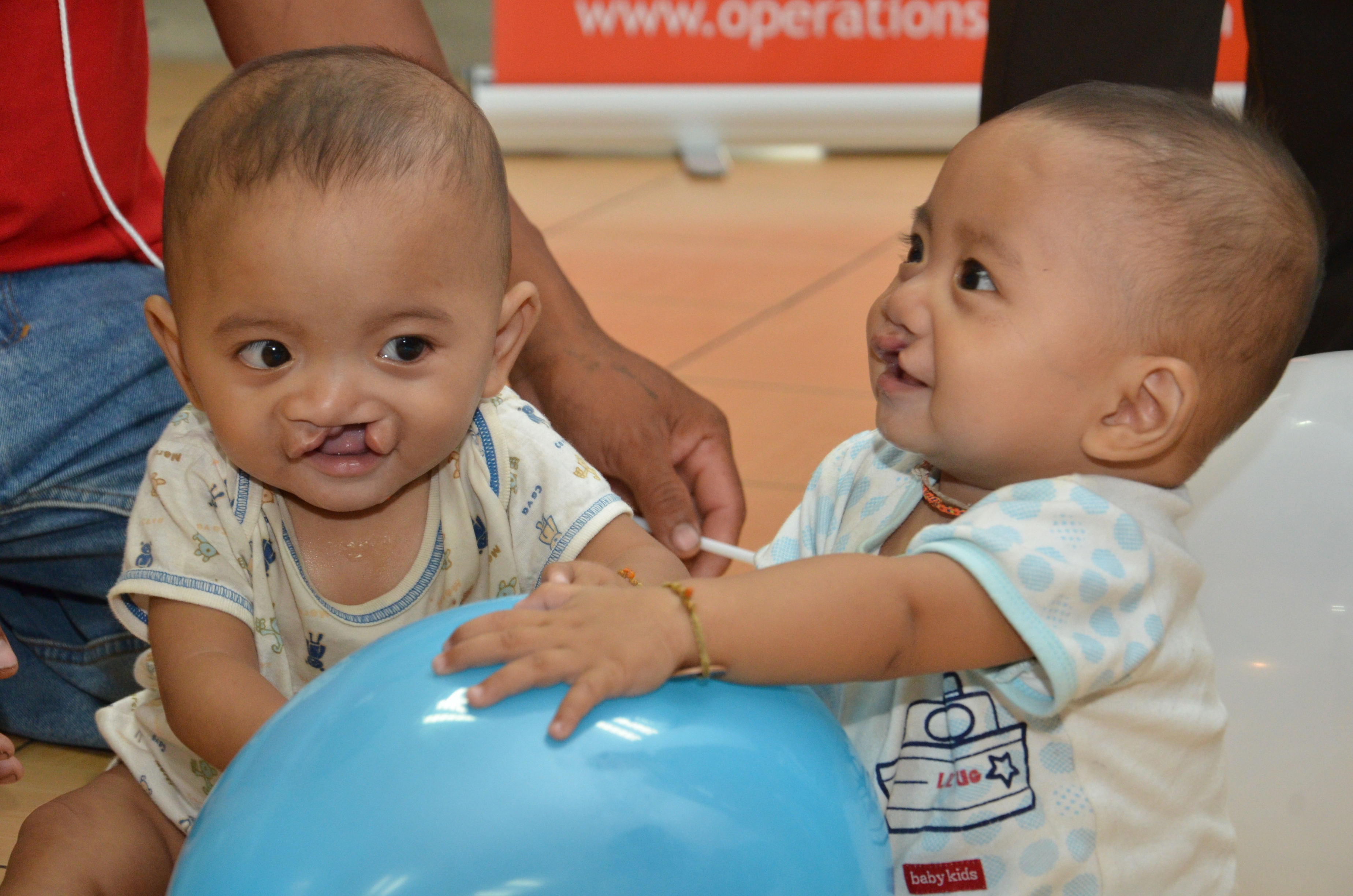 The first time we met Lak (Worapruch) and Ou (Wongsiri) were at the Operation Smile Thailand (OST) surgery mission at Sappasiti Prasong Hospital in Ubon Ratchathani in September 2013. The twins were nine months old at the time and both of them were suffering from both cleft lip and cleft palate.
Lak's given name is Worapruch and Ou's given name is Wongsiri, but as most others in Thailand, they both got nicknames short after birth, and everyone calls them Lak and Ou. The twins live with their mom, dad and an older brother, in Sisaket province in Thailand. The twin's father is a farmer and he is growing rice and cassava on someone's land. Once he harvests, half of the rice will go to the landowner and the other half he and his family get for themselves for eating. The mother takes care of the children. The family has a low income and struggle to get ends meet.
The mother had ultrasound when she was four months pregnant. The doctor at that time found out Ou had a cleft, but when the twins were born, it showed that both of them were born with cleft. The mother was shocked and sad, and at first she thought that it could not be repaired. When the doctor informed her that cleft could be repaired, she felt much better. It also helped her to see other babies born with cleft, and to know that not only her babies were born with this condition.
The parents tell the twins had problems drinking and eating before the surgeries, especially Ou always choked when he drank milk. The parents often fed him with milk in a syringe squeezing the milk into his mouth as he had problems sucking. In addition to the problems with eating and drinking, the parents were also scared that the twins would grow up feeling inferior to other kids.
In South-East Asia many people are superstitious, and the twin's father believes that he during fishing tore a fish lip apart, and he believes that bad karma turned back to his sons because of this.
Lak and Ou had surgery in September 2013. Their mom, Khun Wanna, says she was very happy to come to the OST surgery mission and to know that her kids now will be normal, just like other kids. Now they can eat and drink without problems, and they look like everyone else.
After our first meeting with Lak, Ou and their family at the hospital in Ubon Ratchathani, we have visited the twins several times at their home and we also met them again at the surgery mission in Sisaket in 2015. It is really nice and heartwarming to see the twins grow up to be normal, happy and very active kids!
We have selected a collection of photos of Lak and Ou, their family and our meetings with them, in the gallery below. You can also meet the twins and their family in several of our videos here:
Surgery mission at Sappasiti Prasong Hospital in Ubon Ratchathani in September 2013 when Lak, Ou and 78 other cleft patients had their surgeries.
KAFK visits five of the patients in their homes seven months after their surgeries in Ubon Ratchathani 2013.
Short video about Lak and Ou:
Photo credits: ©Kids Action for Kids / Ostmeier