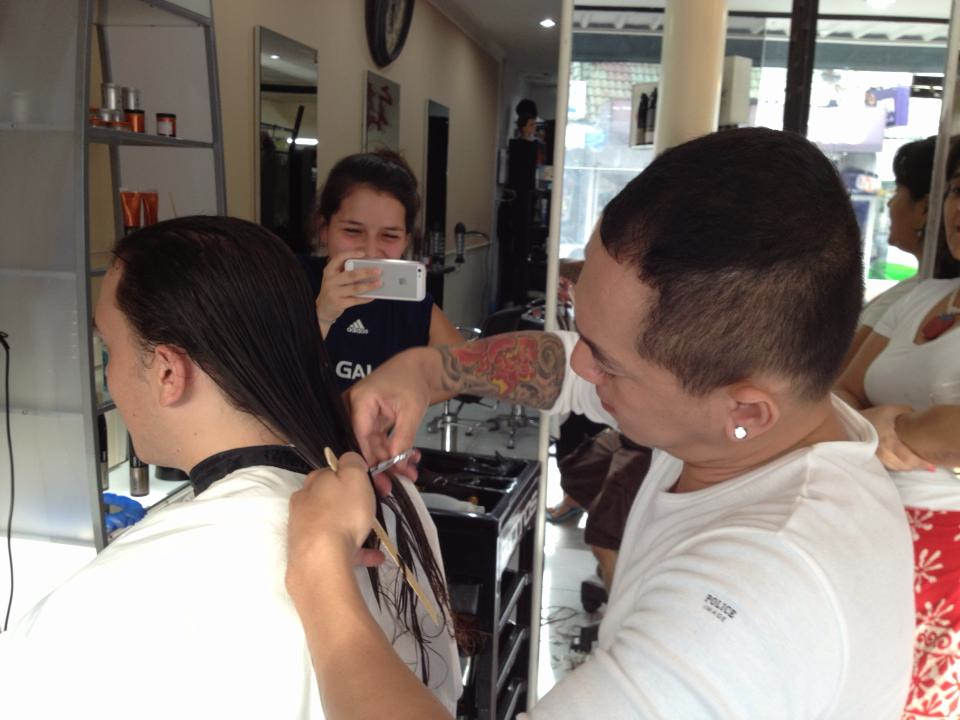 12.05.2015
Bautista has done fundraising for Kids Action for Kids also earlier this school year. You can read about him and his two friends organizing and competing in Charity Triathlon here. This time he did something on his own. Here he tells about it with his own words:
"After the first fundraising event, Charity Triathlon, that we organized, we felt pretty confident that another successful charity could be done with the caring people of ISB (International School Bangkok). I therefore decided to organize a fundraising event that people would enjoy and that would also help a good cause. So, I decided to cut my hair – which was something everyone wanted to see; students, teachers and parents – and reach a certain amount of money for me to do it.
Why did people want to see me cut my hair? My hair had not been cut in over 5 years – not even trimmed – and it basically is a huge part of what makes "Bautista" me. Because this event would really traumatize me personally as I'd have to get used to the new me, I decided to convert this haircut into a fundraiser. And this because I love to help the people that need this support. My goal for the fundraiser was to collect 50,000 baht, as it was only a 1-week collection of money. Overall, throughout the entire week, I am glad to say that we have reached the goal.
The donated money was previously decided to go to Kids Actions for Kids, to help kids get surgeries and to provide a smile and a better life for them. I believed that working for Kids Actions for Kids would be a great opportunity to do what I love to do; help. I would like to add on to that, by thanking Dtac for their kind and supporting match to the quantity of money collected (doubling what was collected), there is a double amount of kids whom are going to smile, and live a greater, happier life. Also a huge thanks to Operation Smile Thailand, who conducts the surgeries and makes sure everything is safe and well organized.
I would like to thank all the kind donors for helping me with this charity, Dtac for greatly matching every single baht collected, Kids Actions for Kids for being there and available to accomplish such great goals, Martin Brekke for helping me organize the event, collect money, and for being my partner throughout these fundraising events. Finally, I'd like to thank my parents for all the support I have received from them, they are proud of who I am and for what I do, and they are glad to know that I am a good person. Thank you everyone for making this happen! Thanks to your generous donations, we can change lives together!"
Read more about Bautista on Our supporters page:
Bautista: "This changed me as a person"