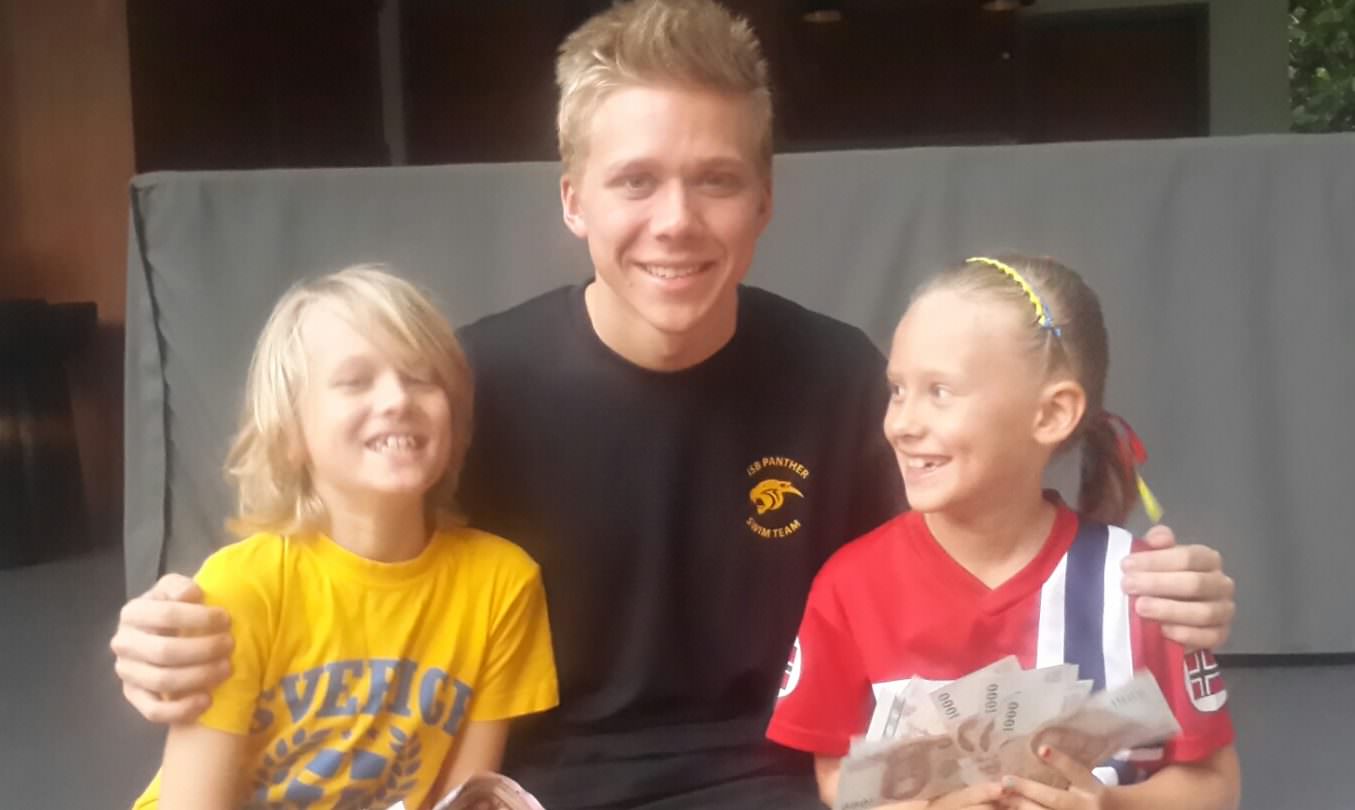 08.06.2015
These two siblings have done remarkable fundraising for KAFK lately and have used every opportunity they have had to collect money. Just listen to this: Birthday gifts for both of them, Tea Party, emptying Celine's saving box and sales of toys when moving.
Their parents tell us: "Robin (8) and Celine (7) moved from Norway to Bangladesh in the beginning of 2011. While living there, they learned that it is not obvious all kids have such a good life that almost all the kids in Norway have, and it is not obvious that all kids will get the food and education that everybody deserves. After moving to Bangkok, Thailand, almost 1.5 year ago they heard about Kids Action for Kids, and thought this was a good way to help other kids to have a better life.
After that, Robin and Celine have celebrated their birthdays in Bangkok by inviting their classmates and other friends to their party and encouraging them to rather bring a donation instead of other presents. They have also been asked to hold presentations for their classes to explain why they ask for donations and what Kids Action for Kids would do with the donations to help other kids to enjoy a new life."
Robin and Celine have now done this for their last two birthday celebrations, and the feedback from their families in Norway and Sweden, and their friends' families in Thailand has only been positive. From their last birthday celebrations in Thailand, when Robin turned 8 and Celine 7 years, they got a total of THB 52,500 which they delivered to Kids Action for Kids' Chairman, Anders Brekke, to help other kids.
"Another fun thing to see is how motivated they are to help others", their father continues. "Whenever they get a gift, they suggest giving it to Kids Action for Kids. And as parents it is good to see how proud even so young kids as Robin and Celine feel with helping other kids to have a better life".
"Now Robin and Celine would like to challenge other kids to ask for the same kind of gifts for their birthdays, to help other more needing kids to have a new life", concludes the siblings' father.