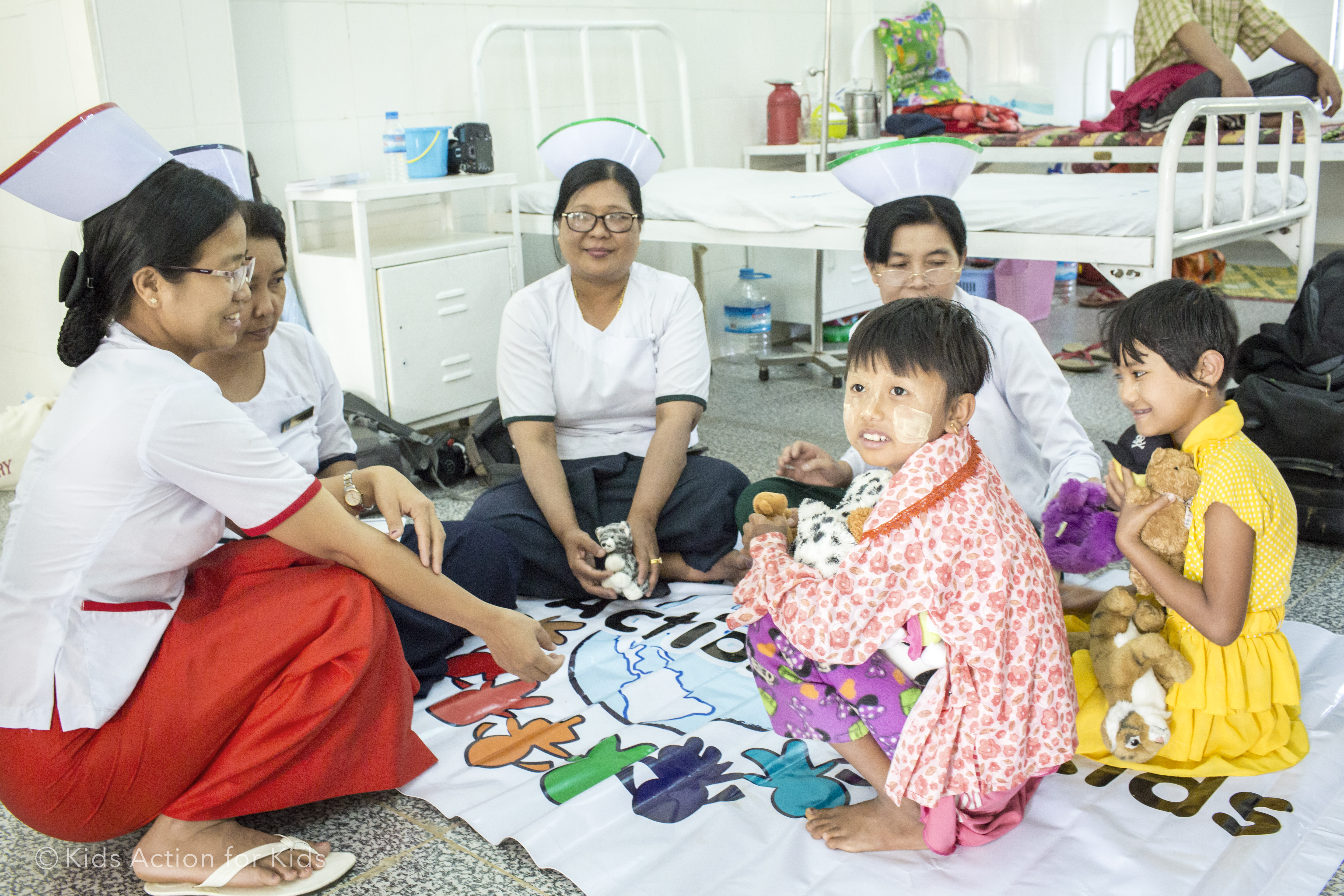 06.08.2017
Pyin Oo Lwin General Hospital, Pyin Oo Lwin, Myanmar, May 2017
In May 2017, the Kids Action for Kids team first flew to Mandalay, then drove to the small city of Pyin Oo Lwin. Joining in on the action were three of our loyal volunteer professional photographers, Ola and Verene Sundberg (both from their own photography company Budskaparna), and Ellie Edelhoff. Our team flew from Bangkok, but the Budskaparna team had traveled all the way from Sweden just to join this mission. We joined Operation Smile Thailand and their medical volunteers there, as well as our partner Benchachinda Group. Together, we made 85 successful surgeries possible.
We arrived in Pyin Oo Lwin a few days before the screening day, and the hospital had actually already admitted some patients early, as they had shown up and had no other place to stay. We got the chance to talk to each of them and their families in a non-rushed environment, which is a little rare given the fact that screening day and surgery day are fast-paced, packed with people, and the patients are often anxious about their surgeries. During our time with them, we learned about their backgrounds, conditions, their daily struggles because of their conditions, and their hopes for life after the operation.
One thing we noticed about the patients here, that was different from the missions we have been a part of in Thailand, was the age of the patients. In Thailand most of the backlog of people living with either cleft lip and cleft palate has been taken care of, meaning most of the patients we see are very young, while in Myanmar there seemed to be an older average age of the patients. Another observation we made after talking to the patients, was that many of them knew others in their villages and hometowns that had a cleft condition, but that had not wanted to come to the mission. It was a bit difficult to deduce the reason, but what we understood was that many of them did not believe that such an amazing opportunity for free life-changing operations could be real, and they did not want to risk paying for travel to come. We can only hope these people see the results their neighbors come back with, and that they come next time there is a mission!
Screening day kicked off on Sunday, May 7th, but patients keep coming for the next few days as well, so screening kept being done as they showed up. Surgeries started on the following Monday and lasted until the end of the week, and the result was a solid 85 new smiles. These surgeries also put us over the 1,000 total surgeries funded together with our partners, which is a very big benchmark for our organization! We had a great experience in Myanmar for the second time with Operation Smile Thailand and Benchachinda Group, and hope to come back!
Photo credits: ©Kids Action for Kids / Ellie Edelhoff / Budskaparne