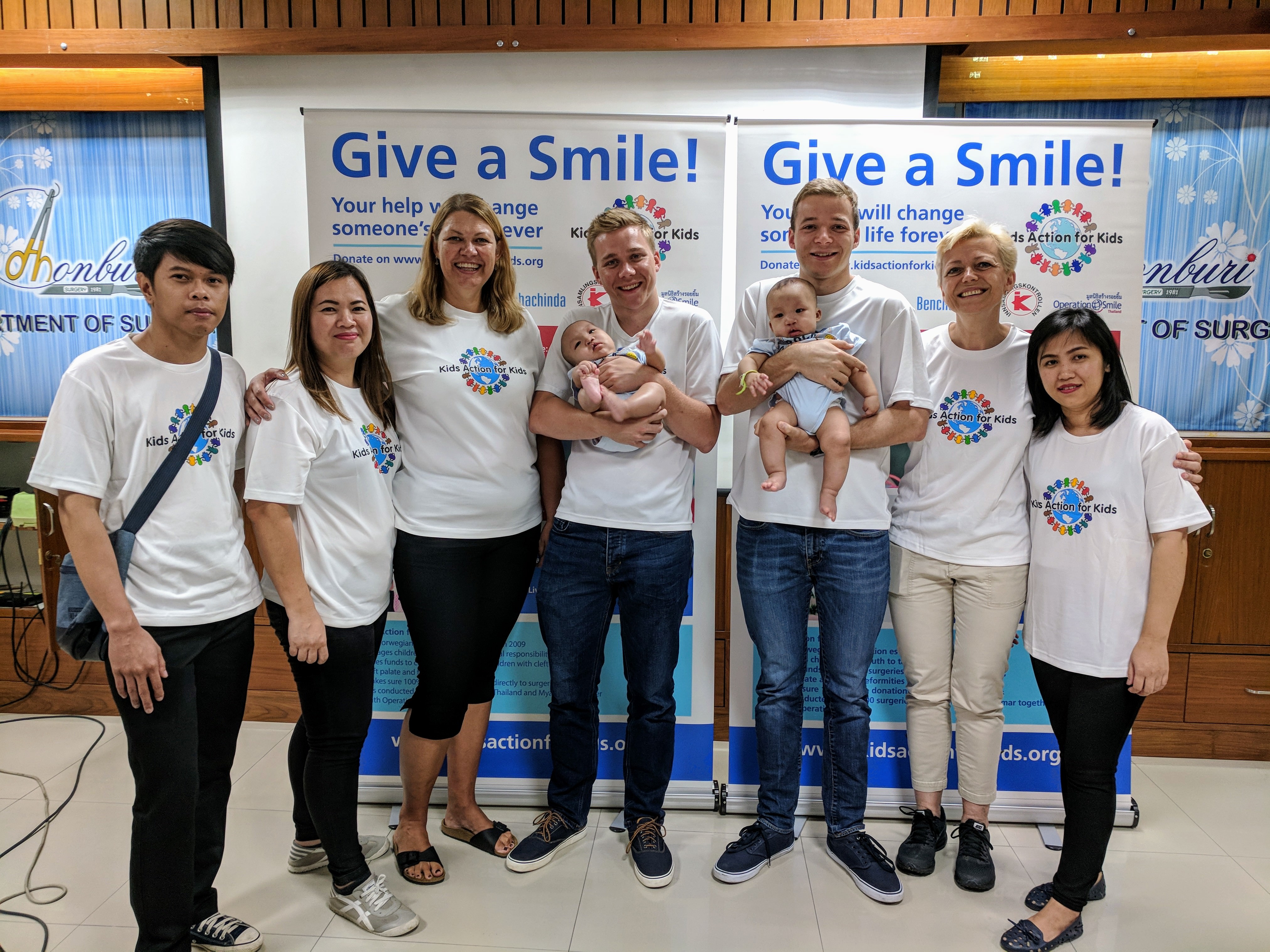 06.08.2017
Kids Action for Kids and Benchachinda Group funded surgeries for 100 children born with cleft lip and/or palate at Chonburi Hospital in Thailand in August 2017.
Both of our organizations brought several representatives to visit the hospital on 23. August to mark the beginning of the ongoing medical mission. An "ongoing" mission is when the surgeries are scheduled in-between other plastic surgery patients, usually over a period of several months. This is made possible when the local hospital already has all the capabilities, equipment and expertise to carry out the surgeries.
We met with the doctors from the hospital's plastic surgery department, and they gave us a presentation on their work that was both insightful and very interesting to hear about. We were also fortunate enough to meet a pair of twins, two 6-month-old boys, who were both born with cleft lip and cleft palate. Pupha, one of the twins, had complete bilateral cleft lip (meaning a split on both sides of the lip) and a cleft palate, and his brother Pakhin had a complete unilateral cleft lip (meaning only one split in the lip) and a cleft palate. These adorable twins were actually born at this hospital, and already received lip surgery earlier this year. While we sometimes run into children who have a family history of cleft conditions, these twins did not have any ancestors with a similar condition. Their mother said she was very healthy during the pregnancy, however both her and her husband work at a car factory, and they suspect some of the chemicals from the factory could have been involved in their sons' conditions. The twins are scheduled to have palate surgery when they are around 1 year old. It is very heart-warming to meet kids and families like Pupha, Pakhin and their parents, and to see that they get the help they need!
Chonburi Hospital will always have a special place in our hearts, and we have so many fond memories of this hospital, as it was actually at this hospital our organization funded the first surgeries back in 2009! It was great to be back, and we hope to come back yet again in the future.
Pictures from the 2009 medical mission at Chonburi Hospital:
https://www.kidsactionforkids.org/our-work/chonburi-hospital-in-chonburi-2009