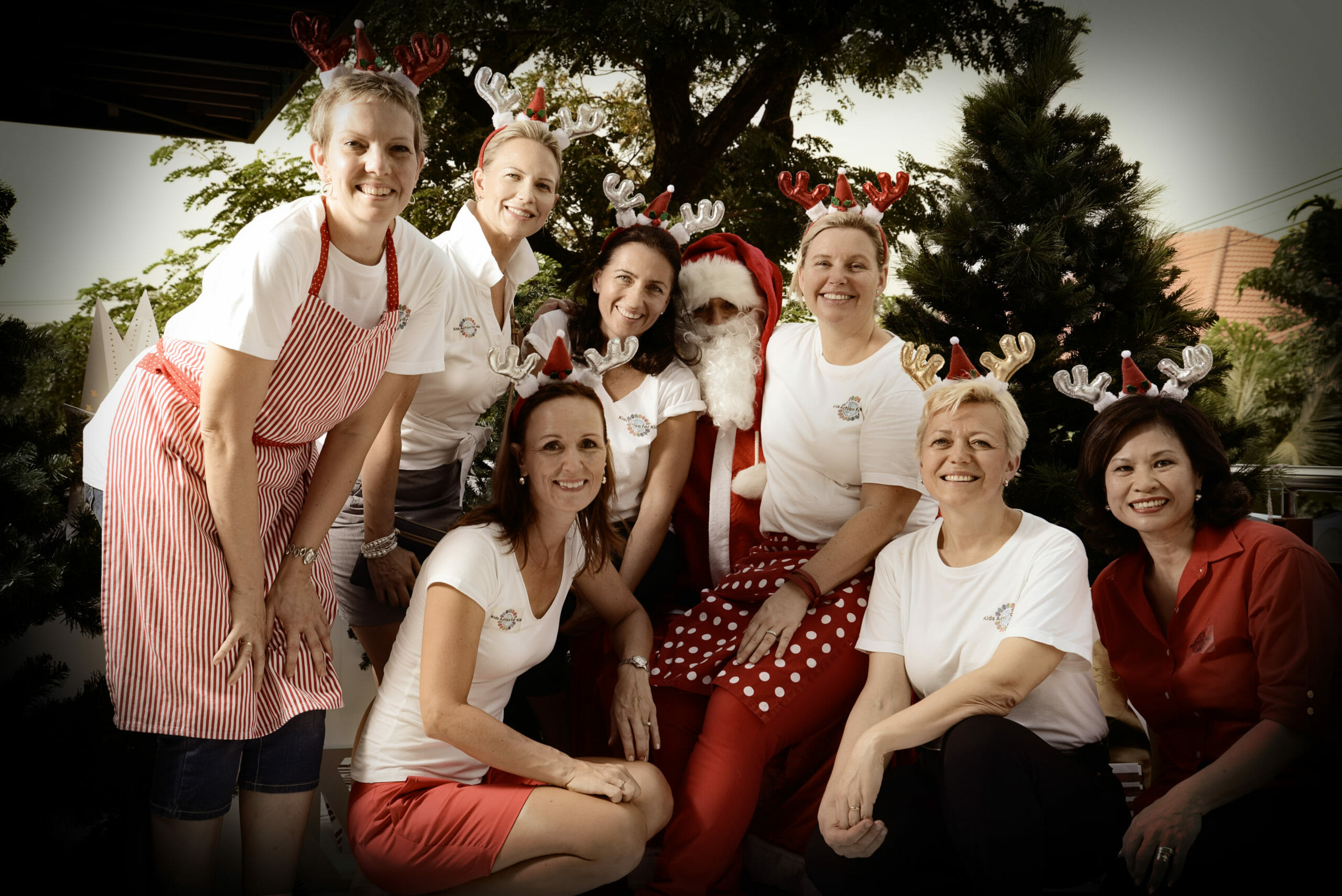 12.05.2015
Scandinavian Ladies' Group with international friends and ISB Kids Action for Kids High School Club arranged Christmas Bazaar 2013 in Nichada Thani, Bangkok
On December 14th 2013 the Scandinavian Ladies with their international friends and the ISB HS Kids Action for Kids Club arranged their first Christmas Bazaar in Nichada.
The preparations through the autumn months were filled with lots of activities such as crafts workshops, selling raffle tickets and… a lot of baking! Children were taught the classic techniques of making felt ornaments, bracelets and Christmas cards, and even the youngest children contributed by stamping Christmas motives to paper bags used at the bazaar.
At the Christmas Bazaar, there were lots of different things going on, for example an authentic Scandinavian Christmas Café with delicious cupcakes and refreshments, sales tables with special European Christmas flowers together with hand-made bakes and crafts, and even Santa Claus came to greet children and have classic Christmas photos taken by KAFK photographer Nicole. The ISB HS Club and other volunteers took good care of various children's activities: face-painting, a ball game, guessing contests and lotteries. In addition, Thomas the physiotherapist activated visitors to challenging physical activities throughout the day. In the silent auction, visitors could bid for unique, home-made Christmas wreaths and an iPhone. The Christmas Bazaar Lottery was very successful. Lots of raffle tickets were sold both in the weeks before the Bazaar and at the Bazaar. We had many great prizes and the lottery stood out as the biggest fundraiser at the Bazaar.
All in all, the Christmas Bazaar was a heart-warming event with lots of happy faces.
With the matching from Dtac, the total outcome of the bazaar was incredible 57 life changing surgeries to children with facial deformities.
Warmest thanks to all generous people and local companies for incredible contributions, and of course to Scandinavian Ladies' Group, its international friends, ISB KAFK Club and individually to Anne Gry, Tina, Saana, Hilde, Nicole, Torgunn and Khun Teena.
Read an article about this event here:
Scandinavian Christmas Bazaar raised funds for 101 surgeries – Thani Talk 2/2015, Thailand