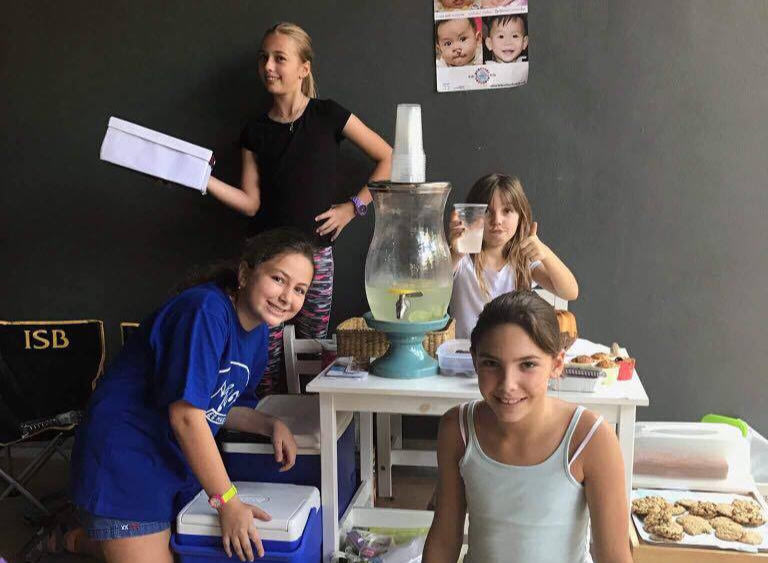 06.08.2017
The five girls Blanca, Dana, Romy, Elena and Yagmur decided they wanted to work together to do something which they both enjoyed and which could help a good cause, so they chose baking their own homemade goods and to sell them outside the community supermarket. This group of friends also represents an extraordinarily international crew; in fact, the five of them represent six countries. Blanca and Dana are sisters from Germany, Romy is half Austrian and half Canadian, Elena is half Mexican and half American, and Yogmur is Turkish. Using their different backgrounds, they made some typical dishes as well, diversifying their offering to let their customers try flavors from different countries and cultures. Apart from the cookies, muffins, and lemonade, they made sure to bake some German marble cake, Austrian Sacher-Torte, and Yogmur brought a special recipe for lemon muffins.
As you can see in the pictures, the girls also made posters which they hung up in different places, to advertise what they were doing to bring even more people to their stand.
This kind of initiative is exactly what Kids Action for Kids is so proud and delighted to see. As an organization with supporters all over the world, it is amazing that so many people of different backgrounds, nationalities, and cultures can come together to benefit a great cause together with us. So a big thank you to these girls. You are true role models and we hope you will continue making a difference in the future.