31.08.2016
Read the story from the Heiermo family, Danish expats who lived in Thailand and joined Kids Action for Kids to the medical mission in Myanmar 2015.  
The Heiermo family has been one of our most loyal and active supporters over a long period of time. Tina, Morten, Jonas, and Silje have participated, both individually and all together, in a great variety of fundraising activities in Thailand, and initiated another bunch in the places where they have been for example in Norway and Denmark. Silje has also engaged her friends to participate in preparations and sales of crafts, baked goods, and other creative items, and Tina has served on the KAFK board as our Treasurer.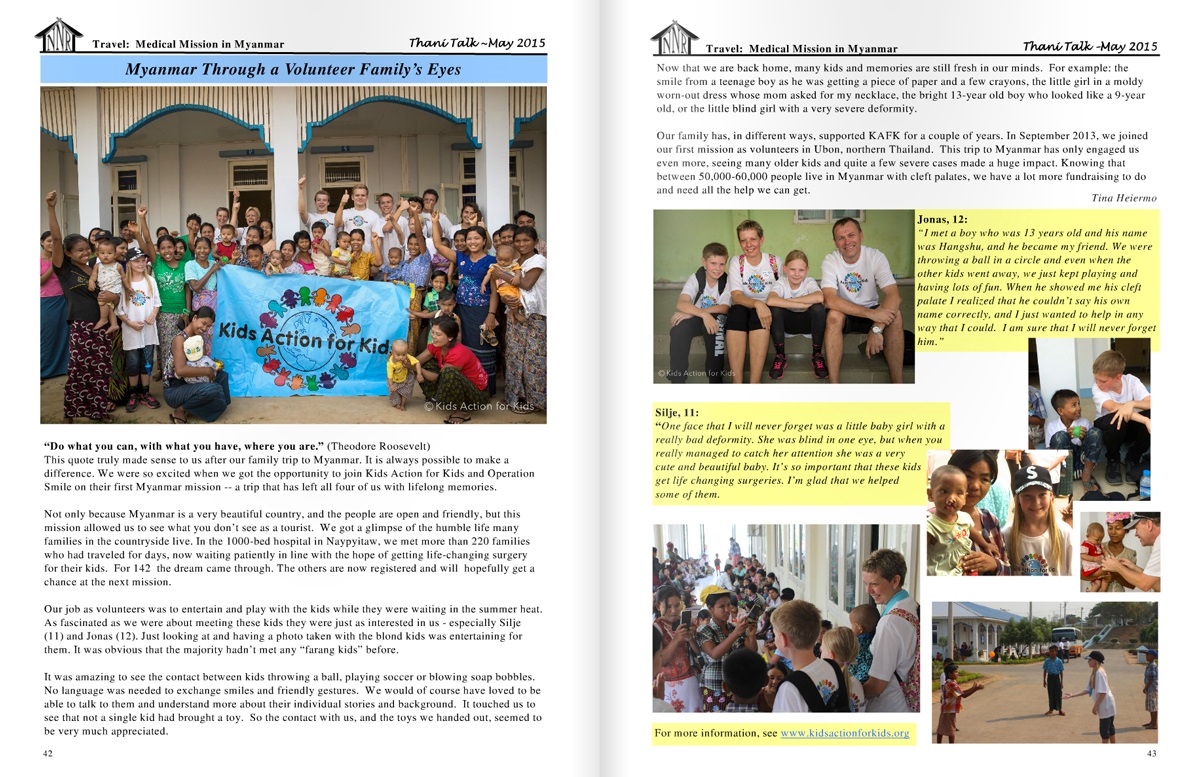 Silje and Jonas have also appeared in Kids' News Denmark on June 19 and on June 20-24 in 2014.
You can read more about Heiermos' fundraising initiatives here:
Silje, Annika and Alma organized a Halloween sale in Copenhagen
A Danish girl trio organized an Easter sale in Copenhagen
Danish girls organized Halloween fun in their hometown
KAFK ladies and kids held 2nd Scandinavian Christmas Bazaar
Over 100 kids participated in Kids' Workshop – Crafts production
Silje and Jonas keep up numerous summer activities on their travels
Ladies' group, friends, and children organized a Christmas Bazaar in Bangkok
KAFK volunteers helped out at the surgery mission in Ubon Ratchathani
Silje and Jonas raised funds by a garage sale and entertainment
Treasurer Tina Heiermo talks about Kids Action for Kids' new webpage
Sisaket Hospital in North Eastern Thailand, September 2015